Fleetdown united football club
Many Thanks To Our Club Sponsors
Jaie Hardy's U8's March on to the Semi-Finals
This weekend saw the U8's in cup action at the Marathon Ground.
The first match was Fleetdown United FC vs Dartford Whites.
These two sides were very evenly matched with battles right across the park. There were early chances for both sides but with Fleetdown not taking their chances and unable to find the back of the net we went in at halftime 1-0 down.
The second half started lively after some changes. Mason won a free kick near the half way line and with a vicious delivery, forcing the opposition keeper to make a great save,  Albert  followed in to score the equaliser. Final score 1-1.
The second match was Dartford Whites vs Parkwood Rangers and Dartford Whites lost 1-0 meaning we had to win our last game against Parkwood if we were to reach the semi-finals.
The final match was Fleetdown United FC vs Parkwood Rangers.
The boys were up for this after having a break, and within the first minute, we were 1-0 up after a great press from kick-off. Robbie opened the scoring beating the keeper in the bottom right corner.  Parkwood never gave up and the game was every open and end to end. Great saves from Mason in goal ensured the victory was ours. Final Score 1-0. Fleetdown United FC proceed to the semi-finals. 
Man of the match Oscar.
Semi-finals to be played on 16/01/22 at the Marathon Ground. Fleetdown United FC will be up against Kekoa and Welling United Wings.
Monthly Newsletter November 2021 Issue 1
Issue 1 of the new monthly newsletter is now available in the clubhouse or online.
For an online copy please click here
National Safe Guarding Weekend 20th/21st November
Fleetdown United Football Club is lending its full support to Play Safe – a national FA-led campaign to raise awareness of the importance of safeguarding in football.

Play Safe is being run in partnership with the NSPCC and has the full backing of the Premier League, EFL, Barclays FA Women's Super League and the FA Women's Championship. It's also supported and being run across every other level of the game.

The main element of Play Safe is a series of short films which emphasise the importance of clubs such as ours having safeguarding as an everyday reality. The films also explain to parents/carers and children themselves know what to do if they feel unsafe or worried, because nothing matters more than making sure football is safe for everyone, especially children and young people. You can see these films below.
Play Safe - For Club Officials
"As a youth team coach, I will be working with my club to ensure we support the Play Safe messaging," says FA Chief Executive Mark Bullingham. "I am also pleased that the campaign has the support of the former footballers with lived experience of abuse in football, who are on our Survivor Support and Safeguarding Advisory Group. The Group has collectively said:

"Learning from the past is crucial, so that we can prevent the horrific experiences that happened to us and so many others in football, from happening again.

"As a group of survivors, we fully support the ethos and important messages that Play Safe conveys – whether to club officials, parents/carers and or vitally, children and young people themselves. Equally important is that Play Safe is not a one-off campaign – it will be used at key points in the football calendar to remind everyone in football, that children's welfare and keeping them safe, should be at the heart of all that we do."

As the Survivor Group points out, you'll see Play Safe appearing at various points throughout the season to keep safeguarding front of mind in football. Together, we want to do everything we can so everyone – particularly children and young people – has a consistently positive experience of our great game.
New Generation Sports Christmas Football Development Camp
New Generation Sports return to Fleetdown United Football Club this December for their development camp. There is a 10% discount on bookings for all Fleetdown players.
Click Here to secure your place now
Official Match Day Programme
The official matchday programme is now available in the clubhouse or online.
For an online copy please click here
Fleetdown Development Proposal To Members
At the EGM, the executive committee proposed a development proposal to the members. This was unanimously voted for and involves the re-development of the current all weather pitch and the erection of a mini stadium around the main pitch. Please see the video for some more information.
Girls. Are you ready? We will be running free taster sessions on Fridays for 7-11 year olds between 5pm and 6pm on our all weather Floodlit Pitch. It doesn't matter what ability you are, just turn up with your trainers and a smile. Have a kick about and make some new friends. We'll see you there.
Continues Friday 26th November. Tell your friends!!!
Places are limited so Click Here to register your interest.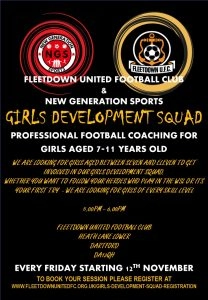 Christmas Disco Fundraiser 2021 - NOW SOLD OUT
Fleetdown United FC would like to present this years Christmas Family Disco.
Friday 17th December  7 – 1130pm.
£5 per person.
See Events page for details of all upcoming events at Fleetdown United Football Club.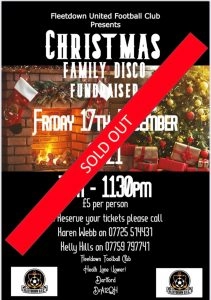 From Sunday Club to First Team Football.
Huge congratulations to Sean Powley and George Harris who made their first team team debuts against Farnborough Old Boys Guild.