Season Review 2019/20 – U9 Boys
The 2019/20 season saw us move from 5 aside to 7 aside, a bigger pitch and playing only 1 game with each half longer than the entire match time the boys were used to. The boys took the extra challenges in their stride thanks too playing a few games in this format at the end of last season and a couple of pre-season friendlies. We also welcomed Aron, Grayson and Alfie to the team who have integrated so well with the other boys.
The New Season Begins
Onto the season and we began with a friendly against the team we were due to play the next week in the league and suffered a heavy defeat which could of affected the boys confidence for the next week but as soon as the league got underway we were able to reverse that result and kick off with a win and a great performance. The following week we carried on where we left off and won a tough away game after going a goal behind early on.
October saw us win all of our league games including a great team performance where we played our best football to date away at Danson. Our form continued into November until we played in the cup against 2 teams from the league above drawing one and losing the other. The following week saw us lose our winning run of league games, but we managed to get a draw after being 2 goals behind with 3-4 minutes remaining. The equalizer leading to Karen and Seanna not knowing what to do with themselves so just hugged each other! The draw felt more like a win under the circumstances.
We moved into December with three games left in the Autumn league and an unbeaten campaign to try and achieve which we managed to do winning all three convincingly. I even heard the term invincible's mentioned in the bar! (although it might have been me saying it)
Christmas came early!
It was in our final game before Xmas that the highlight of the season came. Ronny hadn't scored for quite a while and had started to doubt himself a little bit. So after missing a couple of chances and coach Beef saying all he wants for Xmas is Ronny to score all the boys took it upon themselves to try and set Ronny up which they continued to do even when they could of scored themselves. At one point Ronny's dad Tommy jokingly signaled to me to sub him after missing another chance when it was easier to score! Beef's Xmas present was delivered when Ronny took possibly the hardest chance and found the bottom corner causing scenes of jubilation from all the parents and players who all ran to celebrate with Ronny including the keeper and all the subs and Beef! The cheers were so loud the chairman who had been watching with the president could hear them from pitch one telling me in the bar as soon as he heard the cheer, he said Ronny's scored!!
The best part for me was to see the team spirit they had built together and for 8/9-year old's all playing for their teammate passing to him when they could score themselves.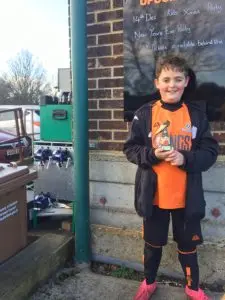 A league here we come
After Xmas and being promoted to the A league we started off at home to Welling who although winning buy some margin praised the way the boys try and play football. Life in the A league was totally opposite to where we has come from with teams focusing more on the result and having smaller squads so not having to make as many changes which can disrupt the flow of the game. However I felt we were unlucky in a few games where I felt we deserved more out the game but one lesson we have learnt is that you have to take your chances in this league or you will get punished. Before the season came to an early end, we had managed to get a few results with a notable performance away at Hayden.
All in all, the 2019/20 season has been a great success and we cannot wait to get back up the club playing and socializing again. Thanks to all the help I have received from the parents and especially Beef.
Squad: Josh, Aron, Grayson, Finley, Ollie, Nonso, Alfie, Ryan, Sonnie, Jack and Ronny.
#Stay safe
#onlyafoolignoresthetwometerrule